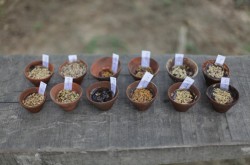 Source - The Jakarta Globe, by Renata Puji Sumedi Hanggarawati
July 31, 2014
Access to food is a fundamental right in Indonesia, guaranteed under the country's Constitution. Yet the country remains as distant as ever from attaining full food sovereignty and faces mammoth challenges in ensuring the availability of food for all citizen throughout the archipelago.
Diminishing land for agricultural use, climate change, poor infrastructure to support agriculture, and limited seed availability have contributed to the low levels of food production in Indonesia, forcing the country to depend on imported food.
To achieve food sovereignty, Indonesia has to start improving its seed management capability, because in the food production chain, seeds are the most important part. The government has issued regulations on seed management and gotten a state-owned enterprise, Sang Hyang Seri, to supply seeds to farmers. But those efforts are not enough, with the Finance Ministry estimating that Sang Hyang Seri can only supply 35 percent of the hybrid rice seeds that Indonesian farmers need to be able to produce enough rice to meet national demand. The rest of the seeds have to be imported.
On the other hand, farmers have developed their seeds in traditional ways for generations in several regions, producing seeds that best suit their needs and adjusting for the environmental variables that they face. Farmers in Indramayu, West Java, for instance, have long developed a rice seed that can grow in saline water and have exchanged them with farmers in other areas, helping improve the crop widely.
In East Nusa Tenggara, farmers store their seeds in a barn to ensure that they have enough for the next planting season. In Java, farming communities are setting up similar so-called seed banks which all farmers in the collective can access.
But local initiatives such as these are still few and far between, with most farmers still unable or unwilling to do more in terms of the management of their seed stock. In some cases, that reluctance stems from the possibility that they may be prosecuted for experimenting with seed breeding or management without permission.
With the presidential election over, the next government of President-elect Joko Widodo has promised massive improvements for the farming sector, all aimed at achieving food sovereignty through new policies to control food import, tackle rural poverty, and support farming communities.
Another important promise is to create 1,000 "seed sovereignty villages" by 2019 — areas where the local farming communities will be entirely responsible for the supply and management of their own seed stock.
That figure is a tiny proportion of the more than 72,000 villages across Indonesia; but if the pilot program works, then it will be a big boost to the effort to achieve food sovereignty nationwide.
One of the important elements in the "seed sovereignty village" program is the involvement of farmers and the local community, who have their own traditional methods of seed management that are passed down from generation to generation. Even though their time-tested practices are often neglected for more "scientific" methods, their existence is still important.
If farmers can attain seed sovereignty, then that will preserve the seed variety in Indonesia. Moreover, farmer will keep on preserving the seeds and using them in a sustainable manner. Indonesia grows 77 types of carbohydrate-rich produce, 26 types of beans, 389 types of fruits, 228 types of vegetables and 110 types of spices, according to the Agriculture Ministry, but we have yet to fully optimize the cultivation of any of those crops as a food source.
The realization of the "seed sovereignty village" program will strengthen the implementation of a Constitutional Court ruling allowing farmers to develop seeds without authorization from government and distribute them freely. The decision is vital because it grants independence to farmers to manage their seeds without intervention from big corporations.
Seed sovereignty is the foundation for all other programs to achieve food sovereignty. Seed sovereignty at the village level will support food sovereignty at the municipal, district, provincial and national levels.
Renata Puji Sumedi Hanggarawati is an agro-ecosystem official at the Indonesian Biodiversity Foundation. She is actively involved in food sovereignty issues.